Why did we start Castaliaz
Since late 1990s, many organizations, small and large, started implementing ERP solutions. Many of them were content with all the business transactions being automated in the integrated environment of an ERP application.
However, many of them were not able to utilize the main benefits of an ERP solution. While the businesses could conduct basic business functions like Sales, Purchases, Accounting, Production etc., on these applications, they still perceived that such applications are very rigid and considered to be a speed-breaker when business changes or expansions come along in the journey of an organization.
Questions like these were haunting the businesses and IT functions of these organizations:
It is not enough that organizations manage to do their business transactions on an ERP application. They should derive real business value from such an application. Such an application should be flexible, transparent, help them scale and rapidly adapt to internal and external changes.
So, we asked ourselves how we can help our customers to ...
That's when we decided to step in – use our extensive experience in Enterprise applications and deliver that WOW factor – go that extra mile and deliver tangible value and not just automate the business transactions of organizations.
And then we started Castaliaz in 2008 – to deliver business value and inspire your business.
Over the last decade and more,  we managed and executed End-to-End implementations, Mergers & Acquisition projects, SAP Upgrades, SAP Enterprise Planning & Budgeting projects, ECC to SAP S/4HANA migrations, Upgrade of EHPs  and several technically complex and challenging projects.
We also offer SAP Partner Qualified Solutions developed by our SAP Center of Excellence experts for various industries such as Pharmaceutical, Chemical, Retail, FMCG, Automotive etc.
We are recognized as a SAP Gold Partner offering solutions to SMEs and large organizations based in Mumbai, Bangalore, Hyderabad, Chennai, Pune, Thane, Nasik and other various other regions in India. We are also appointed as authorized SAP License Provider and S/4HANA Implementation & Cloud Services Partner
We continuously work with businesses of every size to improve their productivity and carry out innovations in their business. It is no surprise that we are acknowledged the industry as one of the Top 10 SAP Implementation Partners in India. Over the years, we have acquired dozens of loyal customers, employees and business partners and hope to make a significant contribution to the industry and society, in general.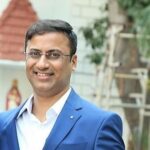 We firmly believe SAP S/4HANA is the future of forward-looking businesses! It is going to help SMEs as well as Large Organizations in their Digital Transformation journey by fostering innovation in business models, processes & products.
Ivan Noronha
Co-Founder + CEO